Depending on where you live, the weather can be a constant source of discussion. In Dubai, it's more predictable with the word 'hot' featuring heavily. But weather in Dubai is not always just about heat....


Copyright Dubaiattractions.com 2013-2014
Dubai Attractions
All About.....The Weather In Dubai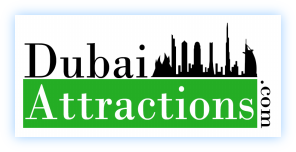 Get Ready For Dubai's Weather- Know What To Expect




July and August are the hottest months of the year in Dubai with January being the coolest. But whether you are here in the middle of its winter, the temperatures are going to be high all year round. In January the daytime temperatures will easily reach up to 23c (73F) by day and drop to around 14c (57F) at night.

However, in August, the hottest month, the mercury will get up to an uncomfortable 41c (106F) during the afternoon, and even at the coolest part of the day which is around 5am, the temperature will still be hovering around 30c (86F).

When you swim in the Persian Gulf, as many tourists and visitors will do when holiday making in Dubai, you'll find the sea temperatures incredibly warm. In August the sea temperature is around 33c (91F) and that's warm enough to bathe in! The sea is far more comfortable to swim in during February when it drops to around 21c (70F) and February is on average the wettest month of the year in Dubai.

It does not rain that often in Dubai but February is the month to expect wet weather as it falls with greater intensity during February. During the winter months of January, February and March it will rain for about 16 days during this 90-day period. In the eight month period between April and November you'll be lucky to see more than three or four days of rain!

With all the heat you'll be relieved to know that Dubai's humidity levels are fairly low at around 55 per cent in the summer and 65 per cent during the cooler winter months.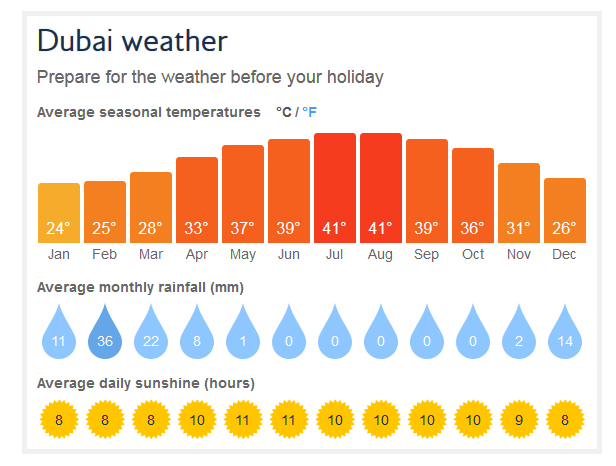 Of course, the weather in any country or location can be unpredictable, if only on very rare occasions. The video above shows one such occasion when the weather in Dubai took a turn for the worse, and even more so in the video below shot in March 2014, when a fierce storm battered residents and buildings with rarely seen hailstorms.
Image below courtesy of
British Airways