Copyright Dubaiattractions.com 2013-2014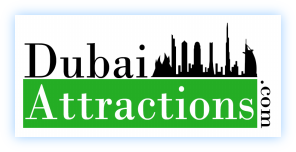 All About.....Wildlife Attractions In Dubai
Not just about stunning architecture and desirable resorts, Dubai's attractions include plenty of interest for the wildlife fan. Top class zoos and aquariums compliment the more natural feel of encountering nature in a desert setting.

Attractions
Wildlife Attractions
Here's a list of the different wildlife attractions you'll find in Dubai, with their Tripadvisor ratings and rankings


• The Lost Chambers Aquarium - Atlantis, The Palm

Taking you on a journey through the mysterious ruins of the lost city of Atlantis...

Ranked #1 of 5 Zoos & Aquariums in Dubai
4 of 5 stars 805 reviews


• Dubai Aquarium & Underwater Zoo

You'll find this aquarium inside the Dubai Mall, one of the largest aquarium tanks in the world....

Ranked #2 of 5 Zoos & Aquariums in Dubai
4 of 5 stars 1,140 reviews


• Ras Al Khor Wildlife Sanctuary

Ranked #3 of 5 Zoos & Aquariums in Dubai
4 of 5 stars 52 reviews


• Dubai Zoo

Ranked #4 of 5 Zoos & Aquariums in Dubai
2 of 5 stars 126 reviews

• Dubai Desert

You'll be able to see camels roaming freely among the dunes on any desert tour. This photo was taken around 10 years ago and shot during a 4x4 dune bashing trip.

Dubai is the city of the future and as well as its many iconic structures and lavish apartments it offers the visitor and locals a chance to engage with many different types of wildlife.

The Dubai Aquarium and Underwater Zoo are proud to hold a record as the world's largest suspended aquarium. Here you will discover more than 150 different species of fish and around 420 sharks and various rays all within this huge tank.

Inside this massive tank you will have a tunnel that is completely transparent and has a staggering 51 metres in length. The tunnel reaches up as high as the third floor of the mall it is situated in and also features an underwater zoo. It is here in this marvellous zoo that you will see penguins, crocodiles and otters.

Everybody loves the dolphin and there are plenty of opportunities in Dubai to swim with dolphins and interact with these majestic creatures. You can even simply come along to the Dubai Dolphinarium and visit these mammals or watch seals performing activities like clapping and handstands.

There is a large restaurant next to the Dolphinarium where you can break up your day and stop for lunch. The centre is certainly a great place to bring the children and educate them about the marine life that thrives here.

A short drive out of Dubai you can visit the Emirates Park Zoo, which has been opened for just five years and has plenty of activities for the children to enjoy.

It is possible to book tours from Dubai to visit this family-run zoo where you will find pink flamingos, giraffes, gorillas, monkeys, reptiles, birds and a section of predatory animals, including birds of prey.

Dubai has its own zoo located at Jumeirah 1, Dubai where you will discover lions, black bears and tigers. However, the zoo has come under much criticism for the small size of the cages many of the animals are kept in, not to mention some being exposed to the intense daytime heat.

You can see a total of over 250 species here, many of which are mammals and you'll even have a chance to see foxes and other wildlife creatures.

It would be far better to experience the natural environment of the Dubai Desert region on a Desert Safari tour. This is a tour where you can see animals and wildlife across large parkland and has been specifically developed to replace the Dubai Zoo. Here you will see guerrillas, elephants, lions, tigers and monkeys all in a natural environment.

The Ras Al Khor Wildlife Sanctuary is located at the Oud Metha Road where you'll find a heavenly experience to see birds and wildlife in a natural setting. It is also a great place to come along and take some excellent photographs from the comfort of a secluded bird watching house. The Ras Al Khor Wildlife Sanctuary is particular spectacular to watch the flamingos and other exotic wading birds.


The video that follows is a beautifully shot one that shows some stunning images of different wildlife you'd be likely to encounter in the Dubai desert and surrounding Emirates regions.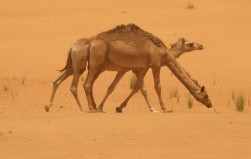 This link will take you to more videos of
Dubai's wildlife attractions
.
Click here to go to
other Dubai attractions
.