Among the many spices you can buy in the spice souk are saffron, chamomile flowers, dried hibiscus flowers, sumac, cardamom, turmeric, thyme, cloves, cinnamon, chilli, and pepper of all colors and varieties. On of the most expensive spices you'll find here is oud, an aromatic wood and saffron.

Why not try out some of the spice blends which are very popular in the Middle East and Asia like Za'atar (thyme, sesame, basil, oregano, salt) and bezar (a mix of Arabian spices). The souk is supplied with its wide range of spices from the local region and countries around the world. The list available is near endless; it's safe to say that you can find all the spices of the world here in Dubai's Spice Souk.

Of course spices are not not the only things you can buy. The souk also sells incense, a few textiles, household utensils, herbs and some dried goods like rice, dried fruit and nuts. In the souk you can find rosewater, shisha tobacco used in hookah waterpipes, and frankincense from Yemen which is used in traditional medicine and perfumes. Of course you'll also have heard about the popularity of gold in the Dubai souks, but maybe you're not aware that Dubai is also becoming a place to buy diamonds on a par with Amsterdam and London.

Don't be afraid to haggle over the prices in the Spice Souk - the store owners will invite you to guess the names of the spices and have a good smell or taste of some. The souk is open from 10am to 2pm and from 4pm until 10pm. Longer till midnight on Thursdays; but closed on Friday.

One of the most interesting ways of reaching the Spice Souk is by abra from across the Dubai Creek. You can catch an abra from Bur Dubai on the western side of the Creek to the Old Souk Marine Station which is nearby.

Apart from the Spice Souk which will most likely be your first choice for spice buying in Dubai you can also get spices from the Choithrams chain of stores. Their main branch is on Al Wasl near the library. You can pick up other pre-packed spices from most Spinneys stores and other supermarkets.

Before packing your bags to go home check up the rules for bringing spices into your home country. Some countries may require that you declare the spices and may take issue with spices that are in their original seed form.

The following video shows Michelin-starred chef Vineet Bhatia taking a journey through the Deira spice souk.




Copyright Dubaiattractions.com 2013-2014
This article was written by Anthony Elizondo. Anthony is a regular contributor here on Dubaiattractions.com.

Anthony is available for writing assignments on any subject and can be contacted through me - that's steve@dubaiattractions.com

Getting There - Where To Stay - Getting Around
Dubai Attractions
Exploring Dubai's Finest - The Spice Souk (Continued)

Fly To Dubai - Latest Flight Deals

Car Hire
Dubai Shopping - Buy Spices In Dubai
There's plenty to see and do in Dubai. In the souks you get to do it all - see, buy, experience. Buy spices in the spice souk while getting the full experience of old Arabia.
The Middle East is synonymous with aromatic spices, richly spiced dishes and colorful sacks of exotic seeds, leaves and bushels. All adding up to a spicy must-see activity when visiting Dubai, one of the best places to buy spices. On any shopping visit to the Deira souks, buying spices stands up there along with gold and diamonds as a favourite of visiting shoppers.
The best place in Dubai to buy your spices is the Spice Souk or Old Souk which is on Sikkat Al Khail Road, Deira next to the Gold Souk. This is the city's oldest and largest souk. Here the narrow alleyways and shoe-box size stores are overflowing with sacks, jars and bags of brilliantly colored spices.
The souk is an assault on your senses, and the goods are not confined to shelves and stores, rather they are displayed on the sidewalk and storefronts. The aroma hits you before you even reach the stores, a mix of sweet, sour and a certain flavor you can't quite place......
more.....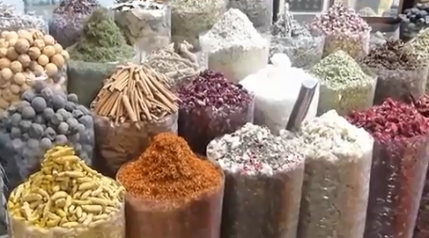 Exploring Dubai's Finest - The Spice Souk