Exploring.....The Dubai Fountains
Exploring Dubai's Finest - The Dubai Fountains
Copyright Dubaiattractions.com 2013-2014
When it was officially inaugurated on May 8th, 2009, the Dubai Fountains became the largest choreographed fountain system in the world. Strategically set on the 30-acre manmade Burj Khalifa Lake, and stretching out at a length of 900 ft, they offer one of the most magnificent water and light shows on earth. These shows are also accompanied by contemporary Arabic, Asian, classical, and other Western popular music.

Designed by California based WEC Design, the Fountains utilize 6,600 lights and 25 colored projectors to accomplish the beautiful colors on display in these shows. With the music and lighting set, the Dubai Fountains show their power by projecting over 22,00 gallons of water at any moment, in various wonderful patterns. This is accomplished by a number of water jets that can propel the water up to an unbelievable 500 ft.

Boasting five circles of various sizes along with two central arcs, the Dubai Fountains are certainly designed to impress....and on a scale befitting the Emirate that's fast developing high class tourist attractions that rival any others you'll find in the world.

If your wondering where in Dubai you can witness one of these amazing shows, the answer is simple: Pretty much anywhere. If you are within Downtown Dubai, the Burj Khalifa and the Dubai Mall Waterfront Promenade will most likely be the best view of the fountains.

In Souk Al Bahar, there are also several restaurants that will offer a decent view. Anywhere along the Burj Khalifa Lake will pretty much give anyone an excellent view. Just watch out for the water spray.

As for when to catch a showing, the Dubai Fountains offer shows at the following times:


Day Shows
:

-Two shows everyday at 1:00PM and 1:30PM


Evening Shows
:

6:00 PM - 11:00PM- Sunday thru Wednesday

6:00 PM - 11:00 PM- Thursday thru Saturday


With the magnificence shows the Dubai Fountains have to offer, and the tourist friendly location, it's no wonder this great accomplishment attracts thousands of visitors every evening, amounting to a total of over 10 million each year.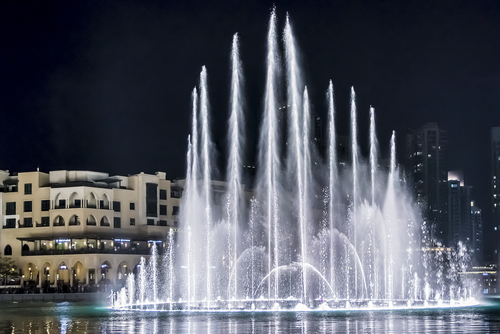 In an experience on a par with the water shows in Las Vegas, the Dubai Fountains have taken rightful position as one of Downtown Dubai's showcase attractions.
This article was written by Anthony Elizondo. Anthony is a regular contributor here on Dubaiattractions.com.

Anthony is available for writing assignments on any subject and can be contacted through me - that's steve@dubaiattractions.com

Getting There - Where To Stay - Getting Around
Exploring The Leading Attractions In Dubai - The Fountains
Dubai Attractions
If you happen to be within Downtown Dubai, and you enjoy spectacular shows involving water, lights, and music, then the Dubai Fountains are a must see.
Many visitors rate the Fountain experience in the top 10 attractions to enjoy.
Construction of The Fountains was first announced in early 2008 by developer Emaar Properties.
As plans began to unfold on their creation, Emaar Properties held a local contest to name the future center piece of the Downtown Burj Khalifa.
After a cost of AED 800 million/ USD 218 million and with a name in place, the Dubai Fountains were ready for the world stage.
Read More....
The video to the left runs through one of the evening Fountain shows, in this case set to the music of Michael Jackson's Thriller.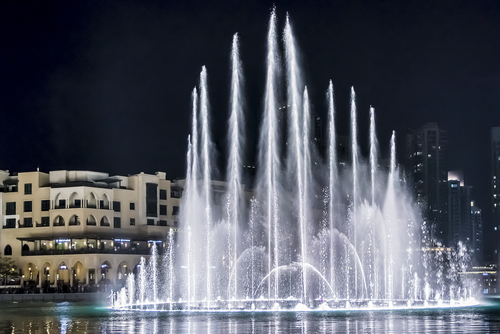 Fly To Dubai - Latest Flight Deals
Car Hire