Whether it's world class dining or a casual Al Fresco style meal you are looking for, The Walk at JBR is sure to accommodate. Here are just some of the restaurants and cafes you will be able to choose from when you are on The Walk at JBR:

• Café Blanc
• Starbucks
• Seattle's Best Coffee
• El Chico
• The Butcher Shop and Grill
• AOC French Brasserie
• Toro Toro
• Subway
• Wokyo Noodle Bar
• Johnny Rockets
• Al Basha Lebanese Restaurant
• McDonalds
• Ruth's Chris Steakhouse
• T.G.I. Friday's

Remember, the restaurants listed above are just a few of your dining options. So be sure to take a look around, you are sure to find something that will satisfy your cravings. Also, the restaurants and cafes do not serve alcohol, so if you want a late night cocktail in the area, check with your hotel along the Jumeirah Beach Residence complex.

When it comes to shopping along The Walk at JBR, your options are just as wide. From world renowned name brands to quality local retailers, there is a little something for everyone. There are also many stylish boutiques and art stores to choose from. Here are just a few of your options:

- Boutique 1
- Antik Batik
- Saks 5th Avenue
- Stitches
- Rivoli Watches
- Moda Brazil
- Gio Ferrari
- Boutique St. Tropez
- Al Rasasi
- Zadig and Voltaire

Once again, these are just a few of your shopping options. It may take awhile, but be sure to check out as many as you can. Besides dining and shopping, The Walk at JBR also has services from dry cleaners to fitness centers. Whether you call the area home, or you are just visiting, The Walk at JBR is sure to have you covered.

You can't forget about entertainment while you are there. Offering some of the best street performers providing music or visual art, the entertainment here is very personal. Along with these great performances, The Walk at JBR also is host to many cultural and tourist events, such as The Walk Festival, The Walk Spring Fest, Red Bull X-Fighters, Samsung's Beach Soccer International Cup, and the Dubai International Film Festival.

Located against the Persian Gulf in Dubai Marina in Dubai, The Walk at JBR has the feel of a vibrant street festival where there is something for everyone. It's no wonder why it is one of the most popular tourist spots in Dubai.



Exploring.....The Walk At JBR
Exploring Dubai's Finest - The Walk At JBR
Copyright Dubaiattractions.com 2013-2014

Getting There - Where To Stay - Getting Around
Fly To Dubai - Latest Flight Deals
Revealing The Leading Attractions In Dubai - The Walk At Jumeirah Beach Residence

Dubai Attractions
1.7km of restaurants, boutiques, stores, and cafes all adds up to another of Dubai's premier attractions. The Walk at JBR (Jumeirah Beach Residence) is much loved by both local and tourist visitors, and with good reason.


For more images of The Walk you can't beat
Google's image search
. There are a number of
amateur videos on Youtube
to watch that give some great views of The Walk, plus the two videos below are promotional in nature and as such are well shot and give a professional feel.
The video to the left takes you on a walk through The Walk, showing great images of what to expect on a visit..

Running along the ground and plaza level of the Jumeirah Beach Residence complex in Dubai, The Walk at JBR is a very popular tourist attraction due to its wide array of activities. Imagine a luxury promenade and a stroll in the evening warmth alongside the beaches of the Arabian Sea, and add restaurants and cafes, and you have the essence of The Walk.
Stretching 1.1 miles, this oceanfront promenade is a mix of Arabic and Western food, shopping, and culture. With close to 350 restaurants, shops, and retail spaces, The Walk at JBR also offers entertaining street performances, art shows, and relaxing coffee shops.
More...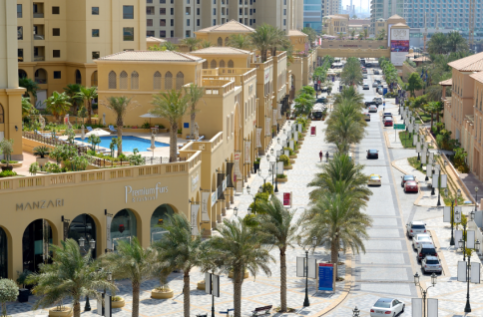 Car Hire
Fly To Dubai - Latest Flight Deals