About Ras Al Khaimah
Copyright Dubaiattractions.com 2013-2014
This article was written by Anthony Elizondo. Anthony is a regular contributor here on Dubaiattractions.com.

Anthony is available for writing assignments on any subject and can be contacted through me - that's steve@dubaiattractions.com

Getting There - Where To Stay - Getting Around
Exploring The United Arab Emirates - Ras Al Khaimah
Dubai Attractions
If you're looking for the perfect relaxing shot break away from the bustle of Dubai, look no further than the Emirate of Ras Al Khaimah. Easily reachable from Dubai, Ras Al Khaimah offers an ideal holiday getaway destination.
Exploring Ras Al Khaimah - Discover The Emirates
Latest Car Hire Deals
Latest Deals On Scheduled & Charter Flights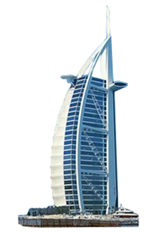 Find Hotel & Accommodation Deals
These two videos give a great overview of what any visitor could expect to see and do on a trip to the Emirate of Ras Al Khaimah.


Perhaps the most recent sectors to add to Ras Al Khaimah's economy is tourism and services. In recent years Ras Al Khaimah has seen these sectors grow with the addition of high-end residential areas, luxury beachfront resorts, and the family friendly leisure facility Iceland Waterpark. The Al Qawasim Corniche is another recent addition to the area that has offered a number of leisure opportunities for tourists and families since 2009. Covering over 41,000-square feet, the Al Qawasim Corniche offers such things as outdoor dining amidst landscaped gardens and running streams, yacht trips, rides on horse drawn carriages, water sports, and a number of sightseeing tours.

With the success of top tourist destinations such as Abu Dhabi and Dubai, Ras Al Khaimah is continually expanding its tourism sector by building a new infrastructure designed to attract investors to its beautiful sunny coastline. Along with its expansion of world class hotels, spas, and resorts, Ras Al Khaimah also has many cultural and historic sites that would round out any getaway to the region. Here are some things that you can expect to see now when visiting Ras Al Khaimah.

The Bassata Desert Village- A desert experience that includes dune bashing, camel riding, belly dancing, Arabic Tanoura, and
a classic desert barbecue.

Prince of Sea- Take a scenic trip around the coast on this motorized motor sailing yacht.

Ras Al Khaimah Country Club- A beautiful country club located in the middle of a nature preserve.

Iceland Waterpark- This water park offers a wide variety of games, water slides, and has an extensive food court.

Golf- Enjoy one or both of the 18-hole championship golf courses. The Al Hamra Golf Club or the Tower Links Golf Club will keep the golf lover happy in Ras Al Khaimah.

Water Sports- Being on the coast you can not miss out on the many water sport options that Ras Al Khaimah has to offer. Hit the beach and enjoy fishing, parasailing, scuba diving, sailing, water skiing, jet skiing, or even kayaking in the mangroves.

Historical Sites- Enjoy the majestic forts and museums that only Ras Al Khaimah can offer. Visit the 16th Century Dhayah Fort overlooking the Gulf. The 18th Century National Museum of Ras Al Khaimah is considered the wealthiest monumental museum in the UAE.

When you add in the amazing dining options that Ras Al Khaimah has to offer from classic local cuisine to Italian, Indian and Mexican, Ras Al Khaimah is steadily making its way up the ladder of unique vacation spots.













Joining the United Arab Emirates in 1972, Ras Al Khaimah has no shortage of history and is known to have conducted trade in the region since as far back as 5000 B.C.

Located at the mouth of the Arabian Gulf, This Emirate of the UAE has prospered from trade routes for centuries.

Not surprisingly it was the fishing and agricultural industries which provided the cornerstone of Ras Al Khaimah's economy in the past, but in recent years the industrial, building materials, and manufacturing sectors have been on the rise......more........