Riding The Dubai Metro - Public Transport In Dubai
Copyright Dubaiattractions.com 2013-2014
This article was written by Anthony Elizondo. Anthony is a regular contributor here on Dubaiattractions.com.

Anthony is available for writing assignments on any subject and can be contacted through me - that's steve@dubaiattractions.com

Getting There - Where To Stay - Getting Around
Exploring Local Transport Options In Dubai - The Dubai Metro
Dubai Attractions
There are many metro systems in different cities throughout the world, but the Dubai Metro stands up there with the best of them. High quality, safe, convenient, and comfortable travel covering many of Dubai's landmark attractions.
Guide To Dubai's Metro Network
Latest Car Hire Deals
Latest Deals On Scheduled & Charter Flights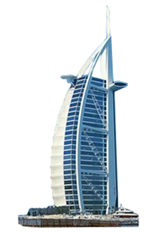 Find Hotel & Accommodation Deals
The video immediately to the right takes you on a birds eye, 17 minute cab ride on the Metro Red Line starting at the Noor Islamic Bank station and ending at Khalid bin Al Weleed.
The video above shows Dubai's world class Metro Rail system in all its glory. One of the most beautiful and highly organised metro systems in the world. While the video below focuses on the Metro while also showing other stirring images of Dubai atttractions and life in general.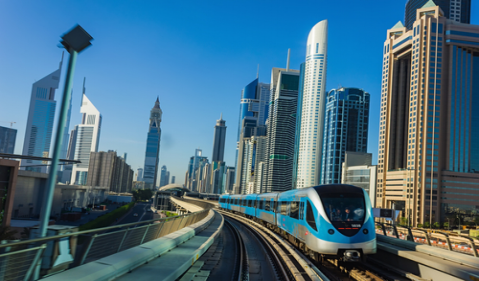 Here is a list if facts and features of the Dubai Metro to help you understand all that it has to offer.


47 Stations/9 Underground
2 Transfer Stations ( Union Square and Khalid Bin Waled )
87 Trains in the Metro Station



Metro Operating Hours


• Sunday-Wednesday/ 5:50 AM to 12:00 AM
• Thursday/ 5:50 AM to 1:00 AM
• Friday/ 1:00 PM to 1:00 AM
• Saturday/ 5:50 AM to 12:00 AM


The Trains

• Driverless Operation
• 5-Car Trains
• Each train can accommodate 643 passengers, seated and standing.
• The 5-Cars on each train are split into 3 classes: Gold (VIP)/One Car - Women and Children/One Car - Silver/Three Cars
• Gold Class has 18 seats and is furnished with luxurious interior.
• Women and Children's Class has space for strollers and bags.
• Silver Class is finished in a combination of blues and greens.
• Trained wardens to accompany passengers to assist with emergencies.
• All train cars have reserved wheelchair spaces for those with special needs.
• Policy of priority rating for elderly, injured, special needs, and pregnant passengers.
• Variety of safety devices on trains including closed circuit television.



Metro Stations


• Every station has bus connections, taxi pick up, and places to lock up bicycles.
• All stations have escalators and lifts where necessary.
• There is a station every 1.5 kilometers on average.
• Station Themes: Earth/12 Stations - Water/13 Stations - Air/11 Stations - Fire/11 Stations
• Roof shape is inspired by pearl diving heritage of the UAE.



Red Line


• 29 Stations- 24 Elevated- 4 Underground- 1 at ground level.
• Frequency- Every 3:45 minutes during peak times / Every 7:00 minutes during non-peak times.
• 51 Trains in service as of 2010
• Distance: 52.1 kilometers total, 4.7 Underground/ Under Dubai Creek
• Expected travel time one way: 1 Hour 12 Minutes
• Expected travel time for round trip: 2 Hours 23 Minutes



Green Line


• 20 Stations- 12 Elevated- 8 Underground
• 60 Trains in service as of 2010
• Distance: 22.5 kilometers total
• Expected travel time round trip: 1 Hour 23 Minute



Buses


• 518 Buses in operation as of 2010
• 41 Feeder routes meet the Metros Red Line
• Feeder bus routes run every 5 to 10 minutes.


Work is set to continue on the Dubai Metro to extend the Red and Green lines as well as the Purple, Blue, and Yellow lines. With the distance that the Dubai Metro travels and the access to bus and taxi services, the Dubai Metro is a fast and exciting way to get around Dubai.



A driverless rapid transit system that has been in partial operation since 2009, the Dubai Metro offers access to some of the most sought after sights in Dubai, including its many luxury hotels and shopping malls.

Traveling a distance of 75-kilometers, the Dubai Metro has been declared the world's longest fully automated metro network by Guinness World Records. It's expected to play a major part in offering tourist visitors

fast and convenient travel to the Emirates attractions over the coming years and during the months of the

World Expo in 2020

.

Read more.....

For other forms of local transport in Dubai see:

•

The Bus Network

•

The Tramway

•

Public Taxis

•

Car Rental

•

Water Taxis