The Dubai Tramway - Public Transport In Dubai
Copyright Dubaiattractions.com 2013-2014
This article was written by Anthony Elizondo. Anthony is a regular contributor here on Dubaiattractions.com.

Anthony is available for writing assignments on any subject and can be contacted through me - that's steve@dubaiattractions.com

Getting There - Where To Stay - Getting Around
Exploring Local Transport Options In Dubai - The Dubai Tramway
Dubai Attractions
Trams have been popular forms of inner city transport for over a hundred years, but the trams of today are a far cry from those of yesteryear. As can be expected, the Dubai Tramway will sit among the most futuristic of those still running in any modern cities when it starts full operation in late 2014.
Guide To Dubai's Tram Network
Latest Car Hire Deals
Latest Deals On Scheduled & Charter Flights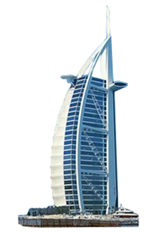 Find Hotel & Accommodation Deals
The videos immediately to the right give us an advanced look at the trams and some additional background to the project.
The video above shows one of the trams in action in real life on a test run.
The Trams that the Al Sufouh Tramway is expected to host will be 44 meters long and have the capacity to hold 300 passengers. Looking to accommodate 27,000 riders per day when it becomes fully operational, the Al Sufouh Tramway is expected to hit 66,000 riders per day by 2020. Traveling at a maximum speed of 50 kilometers an hour and running for 20 hours each day, the Al Sufouh Tramway is set to be a great way to reduce traffic congestion as well as provide residents and visitors with yet another great means of navigating all of the amazing attractions Dubai has to offer.



Set to be fully operational by late 2014, the Al Sufouh Tramway will run 14.5 kilometers and stretch from Dubai Marina to the Burj Al Arab.
It is set to interchange with three stations of the
Dubai Metro's
Red Line and connect with monorail of the Palm Jumeirah at the entrance of the Palm from Sufouh Road.
Read more.....